WhatsApp is not a dating app, but the chat app can still be very useful when it comes to dating. For example, to get to know nice singles better or to keep in touch with a date or young love.
In this article, we have put together some useful tips on how to date and flirt on WhatsApp in a relaxed, safe and, above all, enjoyable way.
Meet offline singles for quality WhatsApp conversations
To flirt and date on WhatsApp, you need the right contacts. As mentioned, you can meet them online or, with a bit of luck and skill, offline.
During the evening
If you meet someone nice and attractive while out with your friends in the evening, it is a good idea to ask them for their phone number.
But whereas you used to have to work up the courage to call them or wait for them to call you, you can now simply send them a message on WhatsApp. It usually takes less effort and is a great way to meet, flirt or date by chat.
Through friends and family

Another option is to get the number of a nice man or woman from friends or family. Most of the time, you will know their friends or family, or at least know them from stories. So you know who you are dealing with. However, if you want to be set up in this way, make sure you have a good reason for (suddenly) WhatsApping the single.
Speed dates
Speed dates are a fun way to meet new people. If you have a good relationship with someone, give them your number so you can start chatting on WhatsApp. Who knows, your conversation might lead to a nice date or even a permanent relationship.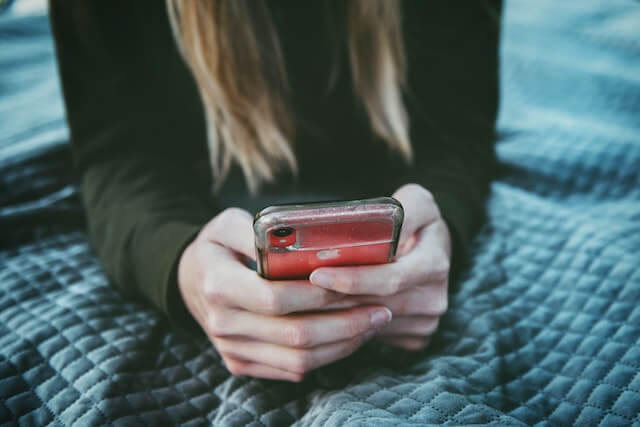 How to date on WhatsApp?
WhatsApp is the world's most popular smartphone chat app. Every day, millions of people around the world use it to keep in touch with friends and family (and now colleagues and business partners).
But WhatsApp is not a dating service. You don't meet new people on the app. You'll always need someone's phone number to send them a message on WhatsApp.
Switching to WhatsApp
That doesn't mean WhatsApp can't play a role in online dating. Many singles use the app to chat and flirt with each other. In most cases, these singles first met on a dating site or app and then switched to WhatsApp. For example, because they…
are used to chatting on WhatsApp and like it better than the dating app;
appreciate the many ways WhatsApp offers to stay in touch (e.g. the ability to call or send a photo);
find it easier and quicker to reply on WhatsApp than on a dating site or app;
find it nice to be able to include someone they have clicked with in their everyday life in this way.
The challenge is to find out the phone number of a nice single so that you can add them to your contacts and write to them via WhatsApp.
What to look out for when dating on WhatsApp?
What should you keep in mind when using WhatsApp to chat with nice singles you have met online or in everyday life?
1. Look after your safety
First and foremost, it is important that you look after your own safety. Don't just give out your phone number to anyone who asks, especially if it's the first message they send you. You'll quickly lose track of who you've already given your number to and have no control over what happens to it. Before you know it, you'll be harassed by dodgy people or offers.
You can't trust that everyone you meet on a dating app will be careful with your private information. Therefore, only exchange your number with singles you have been in contact with on the dating app for some time and who you would ideally like to meet in real life. 2.
2. Pay attention to every message
Chatting on WhatsApp is quick and easy, but that doesn't automatically apply to flirting and dating. A good tip is to watch your language, especially in your first few messages.
Avoid spelling mistakes and read each message over before you send it. Feel free to use emoticons, but make sure they can't be misinterpreted. A quick and witty line with an emoji can go down badly with your chat partner, especially as they are likely to be analysing and weighing up every word you write.
3. Be patient
Chatting with a date is often not the same as chatting with a friend. Most people like to take their time to formulate an appropriate response. Be patient and don't put pressure on the chat. Don't expect the other person to reply immediately, even if you know they've already read your message. If someone sends a reply without thinking, it satisfies your impatience, but in a way it shows that the other person does not take dating as seriously as you do.

Try to take it as a good sign if the other person takes more time to reply. (Although it's different if you feel you're being ignored for a long time).
Other niche dating platforms
Tip: Join a dating app where members pay a fee per message.
Now that you know what to look for when dating and flirting on WhatsApp, the next step is to meet interesting singles and add them to your contacts.
If chatting and sending private messages costs money, many singles are more willing to give out their phone number in order to continue flirting with a nice person via a (free) chat app.
Flirting via a chat app is an art in itself. Unfortunately, you can't see each other, so important elements of flirting (eye contact, tone of voice, body language) are missing. This is not necessarily a bad thing, in fact many people find it easier to flirt this way.
If you have little experience of flirting via a chat app, the following tips may help:
Don't bombard the other person with messages. Each new message will cause the chat to scroll down. Your date would have to keep scrolling up to read all your messages.
If you have been chatting for a while, try to keep the conversation interesting. Occasionally ask a daring question or tease the person you're chatting with in an affectionate way.
You should not chat for too long, but if there is a spark between you, you should meet in real life at some point. If you're afraid to ask them out, drop hints that they can respond to.
Don't use too many emoticons and continue to work on your spelling. They need to get to know you better to understand what you mean.Many singles also find too many emoticons distracting and get annoyed when they have to guess what a message is saying between all sorts of abbreviations, dialects and insiders.
Show your interest by asking specific questions and not sending the same standard questions every day.If the person you are chatting with says they want to do something special, ask how it went.
WhatsApp allows you to send photos quickly and easily. Feel free to use this feature. It will make your chat much more personal.
Throw in a funny comment every now and then and keep the conversation light.
Especially in the early stages of getting to know each other, it is important to make the other person feel comfortable with your messages.
Also, don't bring up topics that are too serious. If you have a difficult subject on your mind, wait until you are on a real date to bring it up.Try not to seem too needy. Do not reply immediately to a message, but wait a little before replying. However, don't wait too long or the other person may feel ignored by you.