In the USA, over 1.5 million members are registered with Grindr. In the UK, over 200,000 users are using the app so far.
As far as the level of the members is concerned, it is of course the same as in normal life – there are some and others. On the whole, the conversational atmosphere is okay, although the conversations tend to be short and somewhat superficial. Topless photos in front of the mirror – that seems to be the motto here.
The users make a spontaneous and flexible impression, so that short-term meetings are quickly possible.
On Grindr, gays from the age of 18 are active. In general, it can be said that the younger ones are more likely to be represented, if only because this community only exists as an app. The age range is estimated at 18 to 35 years.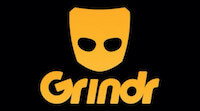 What is Grindr?
The dating app Grindr was launched in 2009. It was originally designed as an alternative to Tinder for gay, bisexual and transgender men. After an update in 2017, the app is now also open to people who identify with the gender "woman", "trans woman", "non-binary" or "queer".
Grindr claims that millions of people around the world use the app every day to find a quick date or their next hookup. Grindr focuses on making it easy to connect and search. Thanks to the freemium model, these features are available to you on a large scale.
Grindr is a full-featured app that you can use on both Android and Apple devices. There are many ways to discover and connect with single men on Grindr: in addition to advanced profiles, including the ability to upload multiple photos, you can specify physical characteristics and interests.
Although there is no swipe function like on Tinder, Badoo or Lovoo, you can search for interesting profiles, view them in detail, add them to your favourites or contact them directly. Alternatively, you can send a tap to show that you like a profile.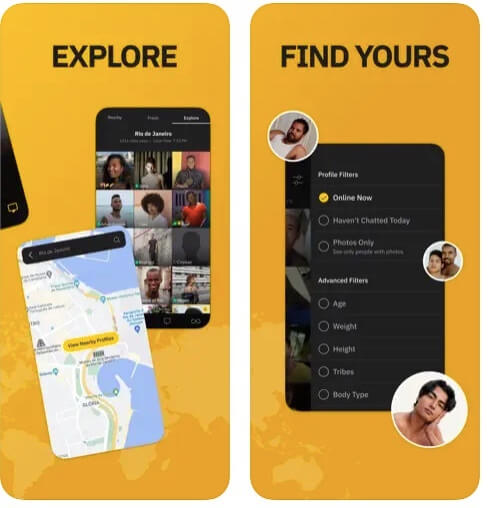 How to create an account on Grindr
To create a Grindr profile, you must first install the app on your smartphone. Once you have found and downloaded the app from your app store, you can set up a profile.
How to sign up
There are four different ways to create a profile on Grindr. Either use your Facebook or Google account, or create a profile with a valid email address or phone number.
Sign up using Facebook and Google
The easiest way to use Grindr is to sign up with an existing Facebook or Google account. Your profile will then be linked to Grindr.
Sign up with email or phone number
You may also register with the dating app using an email address or your phone number. After agreeing to the terms of use and reading the privacy and cookie policies, you can create an account.
For the email option, enter your email address in the appropriate field, choose a password, and add your date of birth. The age limit for Grindr is 18.
To verify your account, you will also need to enter your phone number. Grindr will then send you a code that you will need to provide. Your account is now set up. However, some basic information is still required.
Check out our other dating categories
Profile picture and basic information
Start by uploading an attractive profile picture. With one (or more) profile photos, you have a better chance of meeting nice men. Ideally, you should upload a portrait of yourself or take a photo of yourself in the app that makes you look likeable. However, Grindr also allows you to choose a picture that does not show your face.
The only exception is nude photos, which are not shared.
You can also choose a username, decide if you want your age to be displayed on the app, and what kind of contacts you are looking for. You can choose from the following contact options
Chat,
Dating,
Friends,
Networking,
instant meeting,
Relationship.
Grindr will also politely ask you to share your location. This is necessary to view other user profiles in your area.
Customise and optimise your profile
Before you start browsing the profiles of attractive singles, you may want to tweak your profile.
First, add more pictures of yourself that show different facets of your personality or put you in a good light. Add a description that tells something personal about you and explains why you use Grindr. Keep it short; the description cannot be longer than 255 words.
Next, to make a better impression, you should fill out your stats. These are physical characteristics such as your height, weight, ethnicity, body type, and preferred sexual position. All fields are optional, so it is up to you to decide what, if any, information you want to disclose.
The same applies to the Expectations section (consisting of meeting location and NSFW pictures), Identity and Sexual Hygiene.
The identity section was introduced in 2017 as part of Grindr's Trans Awareness Month. The goal of this update was to create a safe and accepting environment for trans people within the app.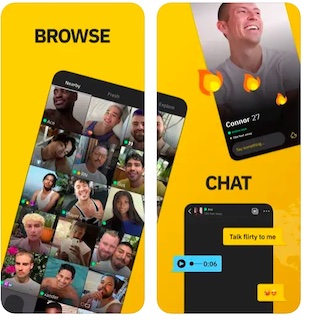 How to find a suitable match on Grindr?
Grindr is known as a popular gay alternative to Tinder. This comparison is true in that both apps are extremely popular and widely used. In terms of function, however, the comparison is flawed. Unlike other dating apps, Grindr does not rely on a detailed personality test or swiping. Instead, profiles play an important role, which you can browse through at your leisure.
Profiles in a grid
Profiles of interesting men are displayed in the Grid tab. On the one hand, you can see which users have just joined the app, and on the other, which singles are in your area.
You can open the profiles with a simple click and view them in detail. If a man has added several photos to his profile, you can click through them. You can also see their name, age and the distance between you. Swipe up to see more profile information.
The number of profile suggestions is limited with a Basic account. If you want more choices, consider a premium subscription. Depending on your subscription, this will expand the grid to 600 profiles or an unlimited number of profiles.
Filtering
Are the suggested profiles not what you are looking for or do you want to filter for men of a certain age? There are several filters available. With a basic account you can limit the grid to age, type of contact (search for) and tribes. All other filters require a premium subscription.
How do you contact other users on Grindr?
Have you taken a liking to a particular user? There are several ways to contact him. You can send a tap by clicking on the little flame in the bottom right corner.
The single you are interested in will receive a notification and hopefully take notice of your profile.
Instead of sending a tap, you can also send a message directly to break the ice between you and your chosen one. As well as plain text, you can send emoticons, pictures and funny GIFs. You can even share your location.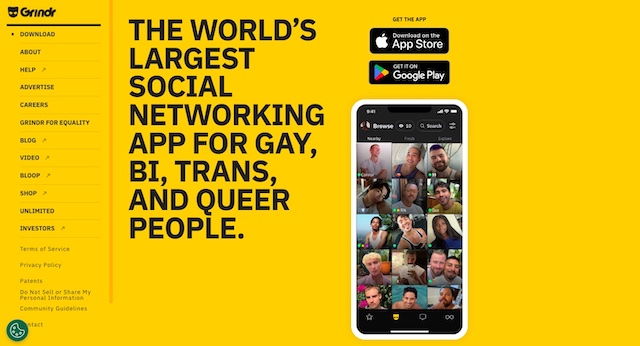 Free membership
Grindr is completely free to use, so there are no costs associated with normal use. For the first 10 days after signing up, you will also receive a free upgrade to the premium membership (Grindr Xtra). After that, you will be downgraded to the free Basic membership.
Since the free version allows you to read and send messages, create a favourites list, and set the search filter according to your preferences, you really have all the features you need – for free.
Premium Membership
If you want a few more features, you can upgrade to a premium membership (Grindr Xtra) or extend your free 10-day premium membership.
With Grindr Xtra, you get the following additional features
300 Guys instead of 100 Guys: You can now see 300 Guys on your homepage that match the characteristics of your search filter.
Save more favourites: Your favourites list has more room for your personal favourites.
Get messages offline: Receive messages not only when the app is open, but also when you are offline.
The Grindr app is completely free to use. A premium membership is available for some additional features. The value for money is average.
What does Grindr Xtra cost?
| Duration | Cost/ Month | Total costs |
| --- | --- | --- |
| 1 Month | GBP 9.99 /month | GBP 9.99 |
| 3 Months | GBP 6.99 /month | GBP 21.00 |
| 6 Months | GBP 4.99 /month | GBP 30.00 |
| 12 Months | GBP 3.99 /month | GBP 48.00 |
Is your data safe? Privacy and Data Protection on Grindr
Grindr allows you to set a number of preferences to better protect your privacy. For example, you can disable the "Show my distance" option in your preferences to hide the exact distance between you and other users.
But don't worry: your profile will still appear in the app's grid, so people can still find and contact you.
Also, most of your profile information is optional, such as your HIV status. If you do not want to share this information, do not fill in the fields.
You can block and report users who you feel are behaving badly. You can also contact Grindr Support for any other issues or problems. You can find it in your profile under your settings.
Support will first take you to a page with various help articles and a search box where you can enter a question or keyword. However, support is only available in English, Spanish or Portuguese; unfortunately, it is not available in other languages.
Check out our other queer dating site reviews
Controversies surrounding Grindr
In the past, Grindr has been criticized for not being careful with user data. Most recently in 2018. Various media outlets have made serious allegations towards the dating app.
Among other things, Grindr is accused of sharing user tracking codes with several companies, revealing the sexual orientation of many users. It is also said to have shared users' locations. It is best to keep this information in mind and read the privacy policy carefully before creating a profile on the app.
Conclusion
Grindr is a great app for all queer, trans and bisexual men and people looking for a casual chat or a date in their local area. Although you can indicate on your profile that you are looking for a relationship or friendship, most men on Grindr are looking for exciting, no strings attached adventures. If you are looking for true love, we would recommend another reputable dating app.
FAQ Section
Is Grindr only meant for hookup dating?
Actually, technically, no. Some people use Grindr to find friendships that are not sexual in nature. However, the vast majority of Grindr users are looking for a sexual encounter and not much else.
Are trans, non-binary or shemale singles welcome on Grindr?
Absolutely! Grindr is open to all trans people and offers a variety of gender markers to make it easier to fill out your profile and find matches.
Is it possible to create an account via Facebook-login
Yes, but you probably shouldn't. Facebook has a nasty habit of sharing user information, which means your Grindr information, pictures and all, could end up on a scammer's hard drive.
Is Grindr XTRA worth it?
Grindr Xtra is not necessary to use Grindr and have a good time. That said, we think the features of Grindr Xtra are pretty great! Honestly, we would be tempted to pay for Grindr Xtra just for the unsend feature!
Is Grindr available on desktop?
No. You can use the Grindr website to access articles and community resourcs, but you cannot log in to your account or use the actual Grindr features.